My 2008/09 Upland Odyssey started on September 1st with the Blue Grouse Opener. We repeated a family tradition we started last year with a camping/hunting trip. Grouse Camp 2009 was set up on Saturday two days before the opener.
With two days of waiting ahead of us, my brother-in-law and friend ventured out to scout for the upcoming hunting seasons. In addition to hunting this range for Blue Grouse we also scour this area for elk and deer throughout the fall. On Sunday we decided to scout a new area for deer and elk. After a 15 mile ride we look out at an expansive draw to find a black bear shuffling out of a draw.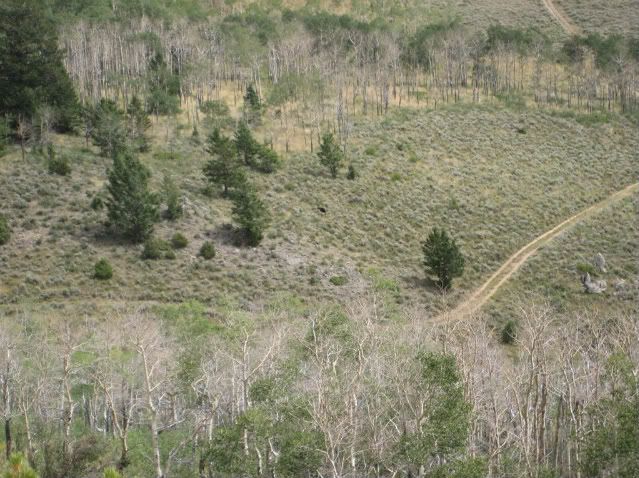 The black dot in the middle of the picture.
Well enough with the small talk and on to Monday. After waking up at 4:30am we started out in search of our game. With only minutes passed by we quickly bag 3 grouse before 7am! My older ESS Mia easily flushed a nice "covey" of grouse. I took one grouse on the wing with Mia making a great find on a blind retrieve. My brother in law Pete picked up two nice birds that flushed down hill to his location. Mia again made two great finds.
The morning started out with a bag but quickly cooled off but started back up again after Mia flushed a grouse only a few feet away from us as we chewed the fat. "Trust your gun dog" was the slogan after I noticed her get birdy but tried to call her off as we finished a short hunt.
After a new resurgence we ventured out to flush three more birds while putting one more in the bag.
At mid morning we headed back to camp to take my nephew Ben out for his first hunt. After a few safety instructions to stay close and right behind his father we headed out on foot from camp. Ben's first hunt did not last long as we filled out limit within a few minutes. I wish it was always that easy but sometimes saving some boot leather makes the all those days of empty game bags worth it.
Pre-hunt diner of the last of the Blue Grouse in the freezer and some white wine from Colorado.