Another year brings another Pheasant season. Getting out and chasing roosters has always been one of my favorites. It's something about getting out on there on the flat land and hunting hard!
In eastern Colorado pheasants are there but you definitely have to work for them!
Mia hunted hard and had a great day and a bad day all mixed into one. She made finds on all three birds we put in the bag. Working the scent cone with a good tenacity and a great hard flush within range of the gun....what she's trained to do! But when she was hunting her range was too far but she has never bumped/flushed a bird out of range. This is something I've been dealing with her for the past few years. Most of this is me and not her. If I would only extend my training into the field I could continue her progress. But I know with more training (for me) I will avoid this with Abby. Abby had a good day, I only put her on the ground a few times and won't gun over until she progresses with her training.
The sun coming up on a new season!
Me and the girls with the day's bounty.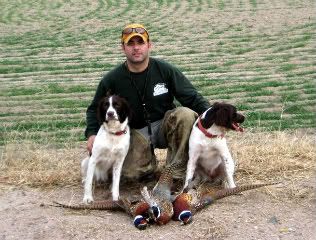 I'll be out hitting the fields hard in the next few weeks and will follow up with more reports.
Til next time.