That's what I've been doing lately to fit in as much training as possible. Finding the time to fit in a few drills or to give Abby a good run whenever possible. Whether it be first thing in the morning, just before dark or anything in between. It's slow progress but it's progress on the foundation building while steadying a spaniel....hup. Hup means up hup and she's learning that she has to hup whenever or where ever it may be.
We took some time on Monday to fit in a longer training session at a local dog park that was originally intended for training sporting dogs. Over time the original intention slowly went to the dog...walkers. I can go on and on about this one but I'll save it for another day.
After a few runs while working on the hup training we headed over to join the "walkers" and let the girls cool down in the water.
I was very impressed with Abby's delivery to hand while retrieving in the water. She previously would drop the dummy to shake off the water. But now the "hold" command is teaching her to hold the dummy and eventually the bird until I say "give". It's amazing how tennis balls can screw up a dogs retrieving and delivery. But like I said before I can spend a few hours on that one but at least I now know better.
We were back on the training grounds on Wednesday morning and after we put our work in for the day I decided to put some much needed time on the water.

Before I knew it I was on the cool water in Cheesman Canyon. I made the trip with a few long time fish buddies Adam, his dad Denny and Matt. I would call the 5 hours that we fished there more quality and quantity!!!
It was big fish Wednesday!!!
I caught and landed my personal best Colorado trout.
A 4 llb (at least) Cutbow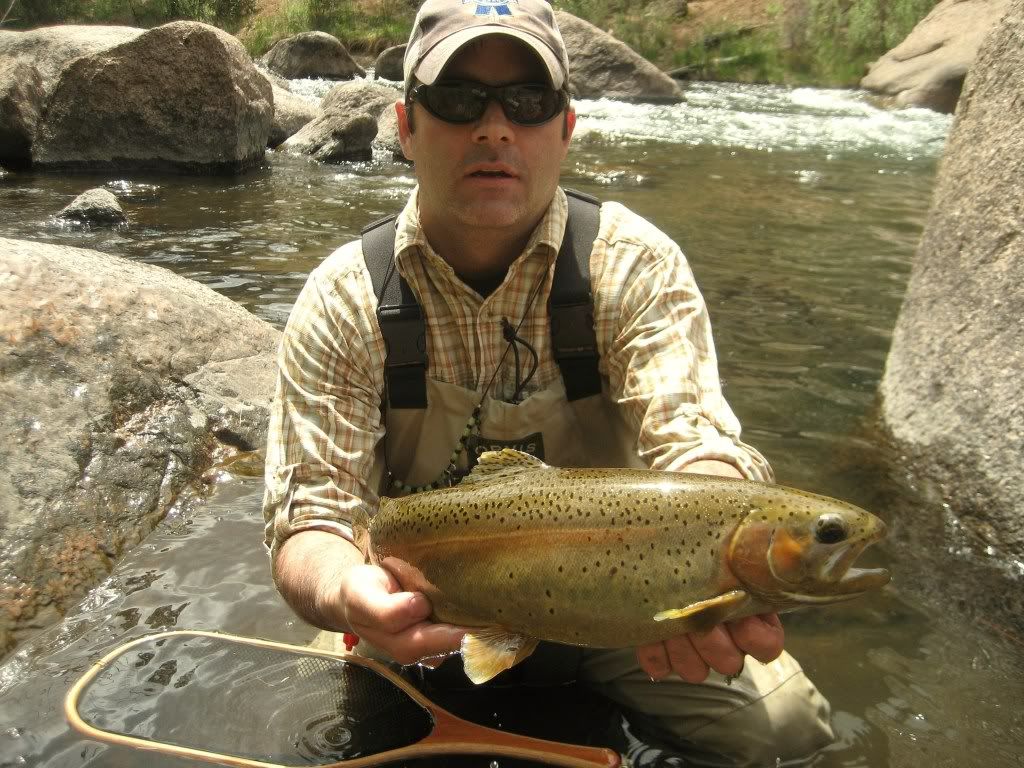 A nice Rainbow caught by Matt